A Reasonable Alternative To Customary Health Care

VOLUNTEER FOR ONE OF OUR RESEARCH PROGRAMS.

Drug Research and Analysis Corporation is recruiting volunteer patients to help evaluate new drugs that have been developed by the pharmaceutical industry. It costs millions of dollars to do the research studies that are necessary to convince the Food and Drug Administration that a new drug should be available in your pharmacy. Unless the management of a drug company were convinced, by results of earlier research, that their new drug will prove to be safe and effective, they would not continue to pay for the cost of these research programs.

We are seeking unique populations of patients with different conditions or diseases to help in the evaluation of new drugs. Some of our previous studies have been for high blood pressure, arthritis, asthma, gout, etc. We also conduct studies which require normal healthy males for measuring blood levels of drugs. If you have a condition you think we might be interested in studying, please talk to us about it. If you have any questions which are not answered in the previous article please call us.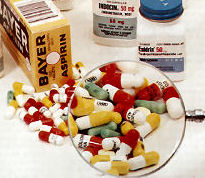 HELP US TO HELP YOU OR SOMEONE ELSE.